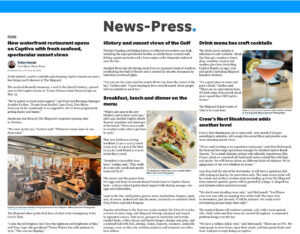 Since our maiden voyage back in May, we've been dishing up some of the best eats and treats on Captiva Island. And now, we're starting to make waves.
Catching the eye of our local presser, the Sanibel Captiva Island Reporter gave readers an exclusive look at the amazing menus of our restaurant, our charming and fun-filled atmosphere, and what to expect when they hop aboard. Not only did all of us at Shipyard wow them with our ode to Captiva's rich nautical history and impeccable service, but also with our breakfast and dinner menus, too.
The stir about Shipyard isn't just anchored to the islands, however, but cruises across the bay as well. Our critical acclaim and five-star reviews subsequently landed in Fort Myers, where we were recently featured in an outstanding article in the News-Press culinary guide. In fact, the publication's critic was so taken by Shipyard's delicious cuisine, bright atmosphere and energetic staff, we were named "One of Southwest Florida's top 12 dining destinations."
But don't take their words for it. Treat yourself, your family and your friends with a bright breakfast or sunset evening, beachfront at the Shipyard — and you'll be singing our praises, too.