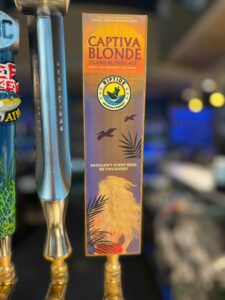 When you're vacationing at the legendary 'Tween Waters Island Resort & Spa, how do you spend your day? Is it basking in the warm Florida sun on our pristine beaches? Kayaking through the mighty mangroves that'll leave you in awe? Or maybe you want to wade in our gorgeous pool?
Whichever option sounds best, one thing's sure — there's no wrong way to spend a day in paradise.
But somewhere between all the fun and relaxation, you might wonder if there's any way you could top this moment off perfectly. And to that, we at The Shipyard say, there is!
When it's five o'clock, and we open our doors, come on in and try Sanibel Captiva Beach Resort's very own Captiva Blonde Ale. Locally and proudly brewed in Southwest Florida, brewmasters have perfectly bottled the allure of our tropical oasis into one delicious beverage. It's as golden as the sun, crisp and cool like our pool and you can get it right from our bar.
After all, it's five o'clock somewhere — why not make it here?